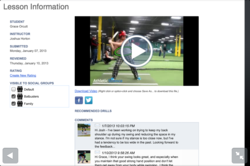 (PRWEB) January 22, 2013
This winter season Athletic Science launched online team sports coaching with a girls U14 fastpitch softball in North Reading, MA. As a first season U14 team they had worked hard in the fall with two practices a week and a number of scrimmages and were eager to take advantage of the newest form of training. With limited facility space and difficult conflicting schedules the team chose to utilize online coaching with Athletic Science to supplement their winter training program.
On a cold Sunday morning in New England the team met for their regular 8:30 am indoor practice. During this practice they added Athletic Science to their coaching staff by setting up a video camera in the batting cage. As a team coach pitched the camera was recording. The coaches made sure to capture at least five swings of every athlete on the team during their regular live pitch drill.
During the next week, at their convenience, parents and athletes submitted a hitting lesson to elite online sports coach Josh Horton. Athletes could submit lesson with a computer, smartphone or tablet to their elected coach, Josh. As a successful college athlete and professional baseball player, Josh has been utilizing video analysis for years. It took an average of under 15 minutes for each athlete to create a profile, upload their video and submit a lesson request. All athletes that signup for free have access to the video tutorial to create an athlete profile and the video tutorial on how to submit a lesson.
As soon as the lesson was submitted, Josh used his iPad and coaching app to telestrate each lesson with detailed coaching suggestions. Every completed lesson was immediately available to each athlete in their private Athletic Science profile. Understanding the importance of safety and the value of coaches, parents and athletes working together, the team took advantage of special team training features on the site. Athletes on the team created social groups on the site and invited followers to make their lessons visible to parents, coaches and other approved Athletic Science members. No information is ever made public unless it has been approved by the athlete.
Teams have always taken advantage of clinics or camps from leaders in their sport. Now, all that instruction is specialized to each athlete, visible to all members of the team and accessible on portable devices. Instruction does not end when a clinic or camp is over but remains in the back pocket of the athlete and coach. Portable instruction from leaders in the sport is at every practice and every game thanks to Athletic Sciences cloud technology. Its like having Josh Horton, professional baseball player from CA, on the coaching staff of this U14 girls fastpitch softball team in North Reading, MA. One parent on the team summed up his first experience with Athletic Science, Josh already responded to my daughter's video. I didn't see it until late last night so I'll show her tonight and she can begin to work on it this weekend. Your site is a very interesting/forward thinking way for instructionthe ease of effort to submit the video coupled with the quick response identifying adjustmentscould greatly improve her swing Shawn (parent of 13 year old on the team)
Athletic Science is the premier on line coaching website because it is the only place sports families, teams and athletes can receive elite, private, affordable video sports coaching in their home or on the road with smartphones, tablets or computers. Athletic Science offers special pricing for teams. Please contact teamtraining@athleticscience.com with questions. Finally, youth coaches and parents have specialized online tools to help their athletes improve with drills and instruction from professional athletes and coaches. Currently Athletic Science has online sports coaching in baseball, softball, basketball, volleyball, hockey, golf and more.
Founded in October 2012, Athletic Science is the only website that enables kids to work with carefully screened coaches without any geographical or schedule restrictions. Anyone can sign up for Athletic Science and connect with people they know, elite coaches and successful athletes in a trusted environment. Athletic Science is a privately owned company in Boston, MA.